REPAINTS/ DECORATIVE SEALANTS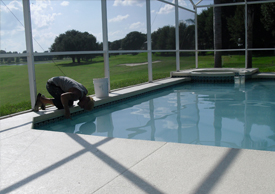 As the Decorative Concrete Experts we specialize in caring for your concrete surfaces and keeping them looking new. Let us brighten up your stained, faded, or worn surface.  At the Decorative Concrete Experts, we specialize in pool deck painting in the greater Orlando area.  Your pool deck needs to be resealed every 5-8 years depending on use and exposure to the elements or you may just be looking to update the color. We pressure wash the area to ensure that it is clean, fill the cracks with a concrete sealant to conceal and protect, and patch any chipping in the surface.  We use the most trusted pool deck paint in the industry.  Check out our gallery to see how we can renew and even add design to your existing concrete surfaces using our acrylic and xylene sealers.  Read our recent blog post about updating your pool deck by clicking here.
Click here to read our blog post about hiring the right company to repaint your pool deck.
Contact the experts at Decorative Concrete Experts today for an estimate. Call 407-342-8552 or fill out our Quick Estimate Form. We proudly serve the Orlando metropolitan area.