CONCRETE FORM/FINISH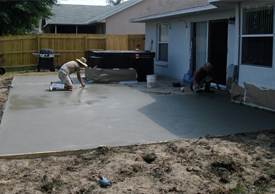 We offer concrete removal and replacement in Orlando and surrounding areas. Our background in form work and concrete finishing will ensure that your new concrete sidewalk, driveway, etc. will provide you with years of beauty and durability.
Not interested in a decorative coating but just looking to bring your concrete back to new condition?  We offer a broom finish overlay that will cover up surface imperfections caused by damage or years of wear and tear.  The new surface is extremely durable due to the 8000+ psi compressive strength of the overlay material.  This products is perfect for renewing commercial sidewalks and general concrete repair.  We can make all of your concrete look brand new!
Contact the professionals at Decorative Concrete Experts today for an estimate. Call 407-342-8552  or fill out our contact form. We proudly serve Orlando, Clermont, The Villages & Ocala.