SPRAY TEXTURE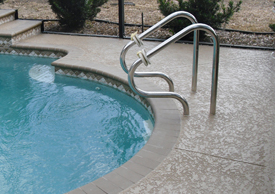 Our decorative spray textures add color and design to an existing concrete structure, adding only about an eighth of an inch to the surface.  The product is mildew, mold, and stain resistant, making it easy to maintain.  In addition the surface is harder than standard concrete allowing us to surface driveways, commercial entryways, pool decks and other high wear areas where other coatings would not hold up.
If you have a textured surface that is cracking, chipping, or peeling, we can resurface the area to bring it back to new condition.  We specialize in resurfacing older decks that have a Kool Deck or Chattahoochee (river rock) coating.  The end result is a durable deck that looks new for a fraction of the cost of concrete removal and replacement.
The durability and affordability of the product makes it perfect for various commercial applications such as outdoor malls, storefronts, car lots, restaurants and more.  The use of templates and custom taped designs allow us infinite possibilities restricted only by your imagination.
For more information on our Spray Texture Services call one of our experts in Orlando at 407-342-8552.