Transforming a backyard with stamped concrete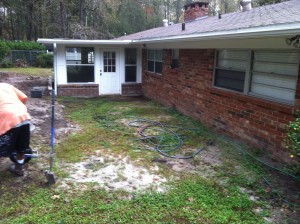 We often encounter backyard spaces that are unused for a variety of reasons.  A lot of the time it's hard to get grass to grow with dogs tearing the up the area or having lots of foot traffic from kids playing outside, etc.  This outdoor space to the right had the issues listed above in addition to not draining water properly.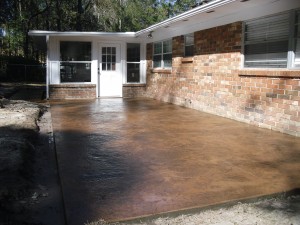 We were able to excavate the area and use our laser level to make sure that our surface elevations allowed water to drain properly off of the new patio space.  We are very fast on these small projects.  We were able to transform their backyard in only 3 working days over the course of a normal 5 day work week.  This will provide plenty of area for a table and chairs and a grill to entertain friends.  In addition we added a sidewalk around the Florida room to a very small existing patio adding functionality to their current features.  Stamped concrete offers a competitive price coupled with the most durable, low maintenance surface that money can buy.  Call the Decorative Concrete Experts today at 407-342-8552 to create the outdoor living space that you have always imagined.